aixFOAM for room acoustics and technical acoustics
The areas of use for acoustic foam as sound insulation are numerous. Worked to highly effective sound absorbers, the flexible material improves room acoustics or ensures noise insulation for more peace.
Sound absorbers in room acoustics
When using sound insulation in room acoustics, the important thing in most costs if to reduce disturbing reverberation, to improve the sound in the room and to reduce noise. Depending on the requirements, in our aixFOAM Shop you will acoustic elements for soundproofing / noise insulation, as well as sound absorbers for sound dampening. Our product range includes wall and ceiling absorbers, bass absorbers and edge absorbers, free-standing acoustic elements and construction materials for footstep dampening and noise dampening.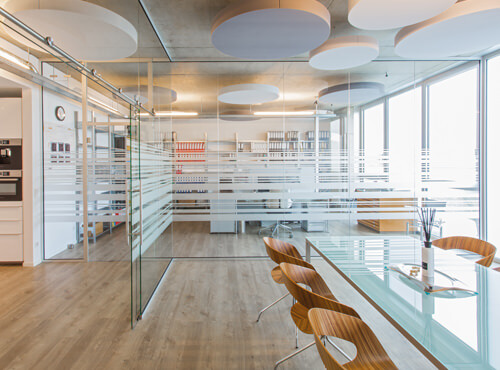 Sound insulation for leisure, living and workplace
Sound insulation is playing an ever more important role at the workplace: For example, sound absorbers are being used in offices and call centres in order to lower he background noise and stress from noise and to facilitate concentration at work. Industry without noise insulation is no longer imaginable either. aixFOAM sound absorbers in factories and workshops lower the noise pressure level and sound pressure level. As a result, the health risk from noise pollution is lowered and productivity supported. For sound insulation in larger production and commercial halls, we therefore offer planning and implementation of complete solutions such as acoustic ceilings or baffle ceilings.
In public areas such as schools, nurseries, sports halls or concert halls, as well as at home, sound absorbers also create better acoustics and a pleasant ambience. In bars, restaurants, and cafés, improved room acoustics invite people to linger.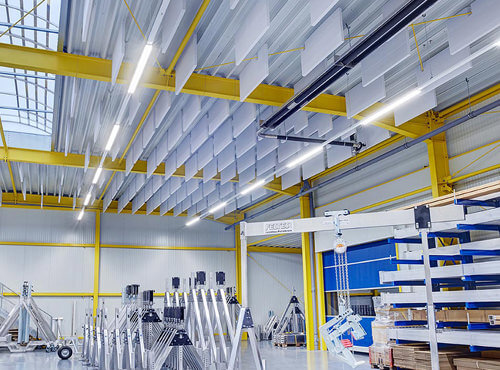 Soundproofing in technical acoustics
In technical acoustics, aixFOAM sound insulation mats are used in various machines and devices for noise dampening and noise insulation. With either washable or liquid-repellent surfaces, our sound absorbers are highly efficient, dirt resistant and hard-wearing, especially when used in machine rooms, engine casings and machine casings. For electrical appliances, aixFOAM sound insulation elements also expertly reduce noise. In the area of sound insulation for boat buildings, sound insulation elements are increasing being used because noise dampening is becoming an ever more important subject in shipbuilding and yacht building as well.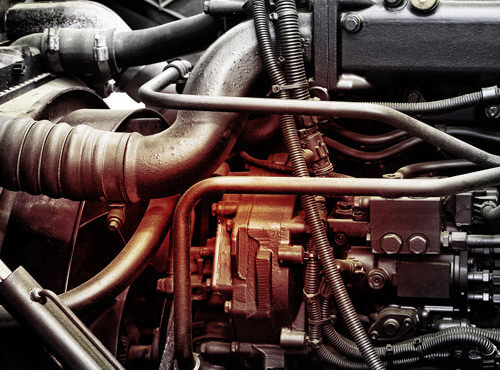 Why sound insulation and sound absorbers from aixFOAM?
As manufacturer of high quality heavy acoustic foam sound absorbers, we at aixFOAM know how important but also challenging the subject of the sound insulation is. Through 60 years of experience and constant optimisation of our high quality acoustic foams, we have succeeded in developing flexible and stylish sound insulation elements with high absorption coefficients. You can get these direct and cheap from the factory in our Online Shop. Choose your favourites from several colours and fire protection classes.
Acoustics meet design – Sound absorbers from aixFOAM
It is not just good acoustics that count more and more as a sign of quality in modern architecture, but also a consistently attractive design of the sound insulation elements. This is why you will find simple, smooth (flat) sound insulation panels and a large selection of profiled sound absorbers such the classic nubbed foam, pyramid foam or our sound absorbers with fashionable felt surfaces. Different installation options, such as our sound absorber panels with practical self-adhesive kit, simplify the installation of the sound absorbers and, like our hanging cassettes, are among our customers' most popular products. As a result, design highlights can also be included in the interior of restaurants, HiFi studios, sound studios, home cinemas, schools, nurseries, living areas, leisure rooms or surgeries using our sound insulation elements.
Now it's your turn: Get the right sound insulation and bring an end to poor acoustics!
Choose your sound insulation from our aixFOAM acoustic absorbers. For some categories in the area of room acoustics such as "Office / Call centre" you can choose between products from the "Classic Line" and the "Architect Line". In technical acoustics, you have a choice between the "Classic Line" and "Engineer Line"in the category "Machine production / Plant construction", for example. The "Classic Line" is where you will find the basic products for effective sound insulation. In the "Architect Line" and "Engineer Line" we have collated sound absorbers for you in sought-after designs and higher fire protection classes.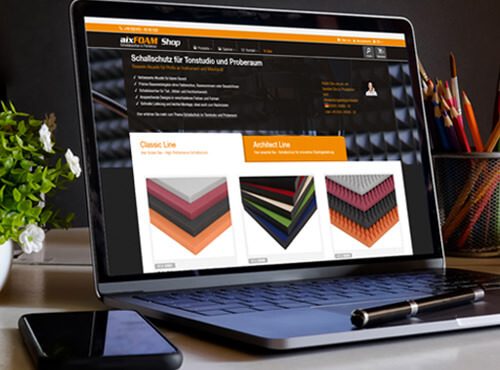 If you are unable to find your desired product in our shop or is you are uncertain about which sound absorbers to choose, use our free advice service. Our experts will support you with your projects in order to find the right solution for your requirements. Upon request you will also receive individual and tailored sound insulation solutions and sound absorbers for your project – simply contact our service team.